In the newspapers
---
An old suitcase, a life of memories
Unearthing the writings of a Tawa stalwart is foremost in the mind of Tawa Historic Society president Bruce Murray. A major focus for the society is publishing the accounts of important local figures.

"Arthur Carman lived in the area for 50 years and was the most fascinating man – a street in Johnsonville and a park in Tawa are named after him," says Mr Murray.

As well as being a member of the Tawa borough council, heavily involved in cricket, and on the Hospital Board, Arthur Carman and his wife ran a Sunday school for 130 local children.

"On the 1924-25 Invincible Tour of Europe he was the only reported that got to go, he spent time in prison for sedition after opposing conscription during the war.

"The major thing he did for Tawa was writing a book called Tawa Flat and the Old Porirua Road that took account of all the people in the area," says Mr Murray.

The historic society has found Arthur Carman's note books in an old suitcase and is piecing together a story of his life.

Also, next year they will publish a booklet on another local figure called Graham Sutton, who lovingly restored one of Tawa's oldest homes, built in 1860.


[published in The Wellingtonian, NEWS - Historic societies initiatives, 23 December 2009.]
---
Cemetery tales revealed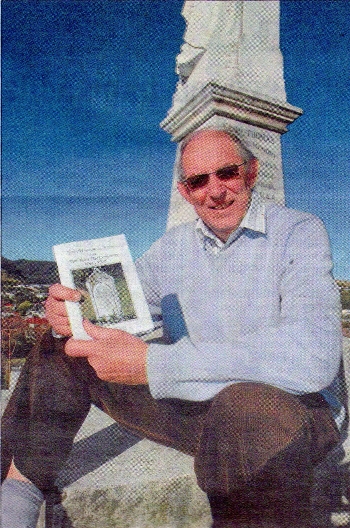 Cemetery secrets : Tawa Historical Society's Bruce Murray with the latest booklet it has released, revealing the tales behind those buried in Tawa Cemetery from 1867.
Tawa Historical Society's latest offering, Tawa Cemetery, is a significant publication on the suburb's past, says its co-author.

The 54-page colour booklet, complete with photos and maps, is the second in the society's "historical series" after Phillip Harland's The Ammunition Bunker at Takapu Road was released last year.

Co-author Bruce Murray said he was surprised at the amount of information uncovered on the cemetery, which closed in 1978.

Bartletts, Browns, Earps, Fitzherberts, Morgans and Hydes are among those interred at the hilly, quarter-acre spot next to the Main Rd.

"For certain we know there are 49 people there, but there could be a few more. Hopefully people will let us know if there is," said Murray.

It's an Anglican cemetery and there was even a beautiful church there from 1866 until it was moved to Porirua in 1902.

The last burial occurred at Tawa Cemetery in 1952, although the place was getting "full" from the 1890s, Murray said.

Much of the research was done online, using the Papers Past website (from the National Library) and from histories already collected on some local families. The project took Murray and Richard Herbert about four years "on and off" to put together.

Even so, a very late change was required.

"A lady came up to me during [the recent Tawa] History Week and showed me a death certificate for Oliver Hobbs, who was from the Horokiwi area but was buried at the cemetery. We had to call the publisher, but that was fine – we don't mind finding out new things," said Murray.

There are a number of sad tales immersed in the booklet – among them Catherine Morgan (nee Green), whose husband John died in 1886, aged 53, leaving his 43-year-old wife with 16 children.

The story of Edward Gibbon Wakefield is also told, because it is he who gave the land to the church just five months before he died.

"What we're telling are the fascinating stories of some of the characters who shaped the area. "There are links right back to the founding of Wellington."

Murray said he hoped an official launch of the book would take place at the cemetery at 10am on July 31. The booklets are available from Tawa Library.


[By Kris Dando, published in The Wellingtonian, July 16, 2009, p21.]
---
The fascinating history of Tawa
Tawa residents will have the opportunity to learn about its fascinating history in a series of talks at the forthcoming Tawa History week in early June.

Chairperson of the Tawa Historical Society, former principal of Tawa College and author, Bruce Murray has been a Tawa resident for 45 years. There are some "fascinating little stories" about Tawa and he should know as he has been researching its history for 45 years.

A series of speakers has been lined up from the Tawa Historical Society to give a series of talks each morning from June 2 to 5 at the Mervyn Kemp Library, Mr Murray said. The talks will relate to the research members of the society are doing now such as the Tawa Cemetery which is also the subject of the society's latest book due to be printed soon.

Considerable research has been undertaken to discover the stories about the first burials and there are some sad stories such as a mother, 24, and baby who both died as a result of the birth. The father took the remaining three children and moved back to England, Mr Murray said.

Bartlett House, a heritage house at 26 Oxford Street has also been the subject of extensive research and "there are some fascinating stories" including stories about its occupants.

If the weather is fine there will be a talk at Willowbank Park as it is quite a historical spot with many items of interest including, but not limited to, the bucket tree presented by Edward William Earp a sheep farmer and the site of the Maori track from Wellington to Porirua.


[By Chrys Ayley, published in The Northern Courier, 13 May 2009.]
---
Tawa Historical Society Book Advertisement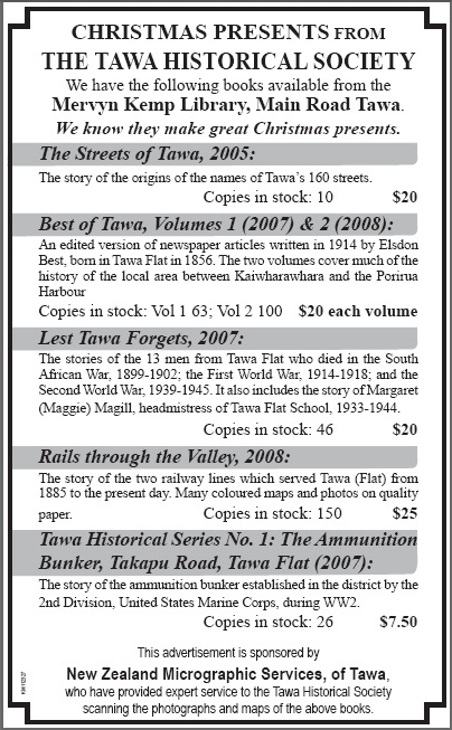 The Advertisement, a first for the Society, appeared in the Kapi-Mana newspaper issue of 2nd December 2008,
thanks to the sponsorship of New Zealand Micrographic Services, of Tawa.
---
Take a talk through Tawa history
The momentum being built up by Tawa Historical Society has been impressive of late, and they are taking advantage of it by holding an inaugural Tawa History Week.

The History Week kicks off next Monday and will involve a daily talk at Mervyn Kemp Library (Main Road), from 10.15am to 11.30am.

Society chairman Bruce Murray says the week has been planned for a few months. The library was keen to be involved and with the society's recent swell in publications – four in the past two years, four more planned in the next 12 months – it was a good chance to strike while the iron was hot.

"A number of people have thought it was a good idea, so we thought 'why not?'. It's hard to say how many will come along, but people in Tawa are very enthusiastic about their local history.

"It's really a chance for people to have a bit of a chat and find out a little about their neck of the woods, there are some fascinating stories there."

Mr Murray hopes to make this an annual mid-winter event. Books published by the society will also be available to buy.

"We're not an historical society in the stick sense, in that we don't have monthly meetings. But what we want to do is get stuff down on paper about Tawa as often as we can and that's why we've been going hammer and tongs lately."

For any further information contact Bruce Murray on 232 5374.

The library discussion topics for each day are : Monday – The Tawa Flat Cemetery 1867 – 1978; Tuesday – Elsdon Best 1856 – 1931; Wednesday – The Takapu Road Ammunitions Bunker; Thursday – Tawa Flat's Bartlett Family and House; Friday – An historic walk and talk around central Tawa.


[By KRIS DANDO, published in The Wellingtonian, NEWS - Tawa, 29 July 2008.]
---
Hunting WW2 history in Tawa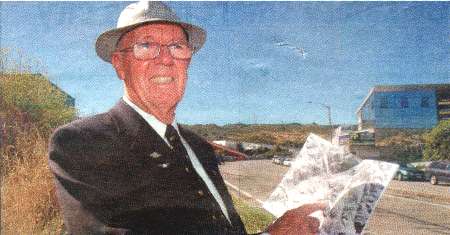 HISTORIC FIND – "I think it would be about here" – Philip Harland has put together a booklet containing oral history and aerial maps of where the ammunitions depot in Grenada North might have been located.
An Ammunition depot manned by US Marines during World War Two is the subject of the latest publication by the Tawa History Society, released recently.

Author Philip Harland says the idea to investigate the depot first came about in 2001 when the historical society was formed. It is believed the depot, in the Dragon Street / Cashew Street vicinity in the Grenada North industrial area, housed ammunition, food, clothing and machinery, and there were likely bunkers and a firing range as well.

Mr Harland says it was an interesting undertaking, as there is not much recorded information about the depot, but oral history came to the rescue.

"The biggest clue of all was a map in Denys Bevan's book," he says, referring to the 1992 work United States Forces in New Zealand 1942-1945 (now out of print) which shows a map of the Wellington region with Takapu Road featuring prominently.

But inquiries to the Ministry of Works archives, the US Embassy, the United States 2nd marines Division – who would have manned it – and local historical sources drew blanks. As a result, the exact nature of the munitions contained within and how many troops were stationed there might never be known.

"A few things held me up for a while but that's what you get dealing with history. Sometimes you have to know where to look, it's a bit like detective work."

Members of the community who lived in the area at the time provided a fascinating insight into what life was like, especially the account of three young men exchanging a hare with a Marine for a tin of pineapple.

John Woodman from Tawa also told him, "These guys, [Marines] … We used to see them walking about to call on a girl, a can of fruit in one hand and a bunch of flowers in the other. Canned fruit was scarce as hen's teeth in those days of rationing."

Mr Harland says he is glad to be able to preserve a piece of the area's history. "It's very satisfying … it's been fun. I'm very pleased with the outcome."

Copies of the Ammunitions Bunker, Takapu Road, Tawa Flat are available for $7.50 through the Tawa Historical Society or the Tawa Library.


[By KRIS DANDO, published in The Wellingtonian, 28 February 2008, p14.]
---
The Best perspective on local history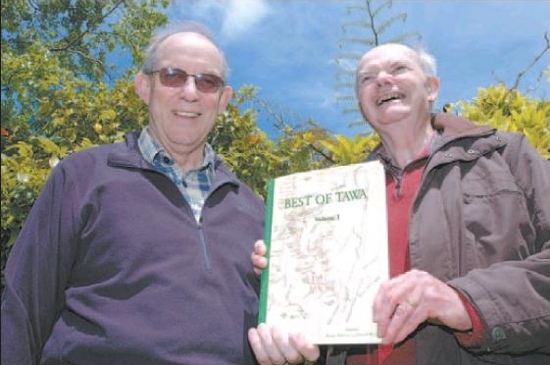 Editors Bruce Murray and David Wood with Best of Tawa Volume I, adding another chapter to the vibrant history of the area.
"And how can we forget the yearly toil of bush felling on the hills, and the battle of the bush loggers to clear and tame the face of the Earth Mother, so that fair fields might support the coming people?"

The above excerpt was taken from an article written by Elsdon Best for the Canterbury Times as part of a series called Porirua – and they who settled it from March-July 1914.

Bruce Murray and David Wood, on behalf of the Tawa Historical Society, have compiled and published Best's writings in Best of Tawa Volume 1.

Best was, and still is, a controversial figure in New Zealand history. A bushman, member of the armed constabulary, sawmiller and writer, his views on history, particularly around Maori settlement in New Zealand, have been largely disproved by modern historians. But his immersion in the Maori culture and deep understanding of settler's lives nevertheless provides rich and colourful reading.

"I came across these articles by Best when I was doing my thesis at Victoria University in 1963," Mr Murray says. "I thought to myself then, 'someone will publish these' but 45 years later, no one has."

In an easy-to-read, non-academic style, the editors have cobbled together a glossy 107-page book that will be of interest to anyone keen to learn about life in Tawa and Porirua in the mid 1800s. There is an abundance of maps, photos and artwork showing the region in its untouched splendour – one particularly striking map was hand-drawn by Best himself as he walked around Porirua's coastline.

Along with Best's articles, topics include the Maori occupation of Porirua, how native lands were bought, dangers of early settlement and an archaeological look at the area – his family and role as a historian is examined.

"There's so much interesting stuff in here, a lot of humour too. Some of it [what Best says] is wrong but that doesn't mean you shouldn't print it," Mr Murray says, referring, amongst other things, to Best's view about the supposed Maori fleet that sailed to New Zealand in the 1300s and the Moriori being on the mainland before Maori arrived.

"Our job really has been to edit it all from these pages and pages of articles of his and compare it to what people are saying now." Mr Wood says Best is regarding as one of the "authorities" on Maori in pre-European New Zealand, and is glad to see the book add something to the country's record of history "in a small way".

There are plans to publish a follow-up, Best of Tawa Volume II, in April next year, focusing on the wars in this area between Maori and Pakeha over land, as well as looking at how roading has shaped this district.

Best of Tawa Volume 1 is on sale now at Tawa Library and Take Note for $20.


[By KRIS DANDO, published in Kapi-Mana News, 20 November 2007, p4, and The Wellingtonian, 6 December 2007, p16.]
---
Historical project lays the foundations for antiquity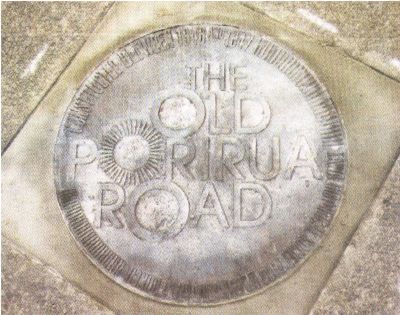 Follow the cast iron plaques: A number of plaques marking the route of the old Porirua Road have been placed through Tawa – the result of a four-year project for the suburbs historical society. Their next mission is to have a war memorial erected.
A four-year project to lay plaques through Tawa showing where the old Porirua Road ran through the suburb, came to fruition last week.

Undertaken in conjunction between Tawa Historical Society and Wellington City Council, society chairman Bruce Murray says it's a great to finally see the end result.

"It's done now so that's good. In the last 12 months council have been exceedingly helpful."

Made out of cast iron the 12 plaques are dotted through Tawa, starting at Boscobel Lane in Sundale and running through to the southern end of Grassless Reserve.

A free map outlining the route of the trail is available from Tawa Library.

Mr Murray says he hopes to see the council start an initiative to mark the entire road, which stretched from Ngaio Gorge through to Porirua.

As one project comes to completion another one is just in its early stages.

Mr Murray says when he was preparing a speech to deliver at the Anzac Day service this year he realised how little knowledge there was about Tawa's involvement in the Boer War, World War I and II.

"Very few people in Tawa have any idea of how many people from here were in the three wars, who they were and what they did.

"I wrote a letter to the [Tawa] Community Board and said it's time that there was some public recognition."

He says a war memorial in a public space would prove to be a positive addition to Tawa, especially seeing as Anzac Day crowds are increasing each year.

"It just struck me as being an opportunity. There are so many people going to Anzac Day services now that the little kids have to sit on the floor."

Tawa Community Board discussed the idea at their meeting in June and Mr Murray says they were unanimous in wanting to see something happen, but says it's still early days.

"We're now getting a group together made up of the Historical Society, RSA and Community Board to start talking about what's the next step."

They are also calling for input from the public on the memorial's design and location.

"I hope the public would get behind the idea, I imagine there would be a good deal of support for it."

Mr Murray stresses that the memorial will not be "some great glorification of the war."

Of the 13 Tawa men who died in the three wars, he says a number of them died from disease or during training sessions. "Their stories are certainly not glorious."

As a side project of the memorial, the Historical Society is putting together a book telling the stories of the 13 men who were killed overseas. Mr Murray says he hopes this will further help to increase people's awareness of something that is "absolutely past of our history."


[By Kate Bleasdale, published in Kapi-Mana News, 17 July 2007, p12]
---
History finds home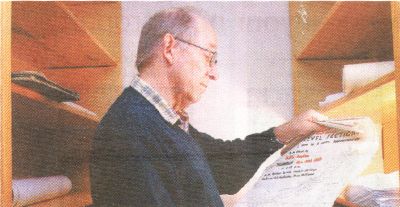 FOR THE RECORD: Chair of the Tawa Historical Society Bruce Murray looks over some of the documents being moved into the society's new premises in the Tawa Community Centre. Photo : Crispin Anderlini.
Tawa's history now has a safe home with the Tawa Historical Society moving into the new community centre.

Thousands of historical documents and photographs, which were scattered among society members' houses, will be stored in a fire-safe room.

Society president Bruce Murray says the centre was a "marvellous find" after searching "high and low" for more than five years.

"It will be great to look after the documents and photos properly," he says. "If people offer us stuff we can now accept it and store it safely."

The room once stored records for the Tawa Borough Council.

"It would be nice to have them here, too, but they are safely tucked away in archives in Wellington."

Alexander Turnbull Library could have stored the society's documents, but it was decided to keep them closer to home.

"This way we keep them in the district."

The room will serve as a general base for the society's activities. The task of moving the documents is getting under way.

The society was established in 2001 with the aim of educating Tawa about its rich history.

It has 45 members and has published several books, including An Historical Atlas of Tawa.

Mr Murray says the books have now sold out.

Several are in the pipeline, including one on soldiers from Tawa who died in World War II.


[By Benjamin Heather, published in CityLife News North, 20 June 2007, p20]
---
Tawa's History mapped out in geographical relief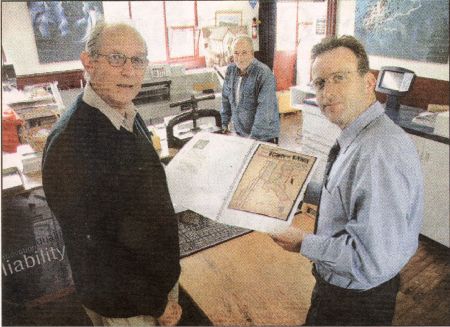 The Tawa trio of (left to right) Bruce Murray, Karel de Raad and Andy Fenton worked together to produce a historical atlas of Glenside, to Titahi Bay area.
Colonial Knob lost five feet of its height sometime in the 1950s, shrinking from 1,540 ft to just 1,535 ft, without an earthquake.

That gem come from one of the most unusual ways to visualise the history of Tawa – without words or pictures, but instead lines and symbols – has just come off the press in a milestone of publishing for the Tawa Historical Society and author Bruce Murray.

Mr Murray says maps illustrate the historical growth of our urbanisation from a rural area. They can show the development of transport – it used to take a whole day to get to Wellington – and development of the Porirua City Centre.

They're features of the new book, An Historical Atlas of Tawa.

Mr Murray, a geographer by training and former principal of Tawa College, where he taught for 27 years, and chairman of the society, is no stranger to pictorial histories of Tawa.

Last year he authored The Streets of Tawa which highlighted much of the town's history through the names people gave to its paths and roads. A lot of old history came to light for the first time through his year of research for that book.

He began his professional association with Tawa, his home for 42 years now, by doing his masters degree thesis at Canterbury University in 1964 on Tawa's geography.

"It wasn't one of the great scholarly works", he says modestly.

Now he has compiled a historical atlas of maps of the region, from the middle of Glenside and the Takapu Valley to Titahi Bay, since 1904. In 85 A-3 pages, mostly in colour, it showcases and interprets 37 maps, from property maps to topographical maps.

"It should become a standard reference book for the region," he says.

Mr Murray selected the maps and a team of society members helped him get it ready for publishing. "We like to do a book a year, releasing them in time for Christmas buying and giving," Mr Murray says. It took hundreds of hours of labour.

The book breaks new publishing ground as well. Printed by the society's usual printer, member Karel de Raad's Porirua Print, they have utilized the new and unusual method of xerographing an entire book at a time. Called publishing on demand, it allows the printer to make up additional books with ease.

Also contributing to the book was Andy Fenton, managing director of Tawa company New Zealand Micrographic Services Ltd, who was responsible for the computer work done bringing the old images to life.

Other interesting history came out of the research for the book, Mr Murray says.

"It became apparent that the original name for Porirua was Jackson's Ferry, named after a whaler from the South Island in the 1870s," he says.

The name of Porirua was apparently never used even by Maori, who did not have a settlement at the place called by that name. Porirua apparently became the name sometime after colonial settling.

And just what did happen to the missing five feet of height on Colonial Knob? Blown away by constant winds? Washed into the sea by torrential southerlies? Bulldozed for radio transmitter towers?

Actually, say Mr Murray it looks as if the mountain really is the same height it's always been – bar a centimetre or two lost or gained through movement of the earth's crusts that constantly deforms all of New Zealand.

But sometime in the 1950s the maps showed a height five feet lower. "It was probably the result of new measuring technology", Mr Murray says.

The book's first print run of just 100 copies, selling at $58 each, will go to schools, libraries and members. But the society is taking orders, and will be able, using the new printing technology, to economically print-on-demand small quantities.

Contact Tawa Historical Society, PO Box 51073, Tawa. An order for may be obtained form the Tawa Library.


[Report By MICHAEL KOPP, published in Kapi-Mana News, 31 October 2006, p9,
and also in The Wellingtonian, November 16, 2006, p16.]
---
Why the streets have those names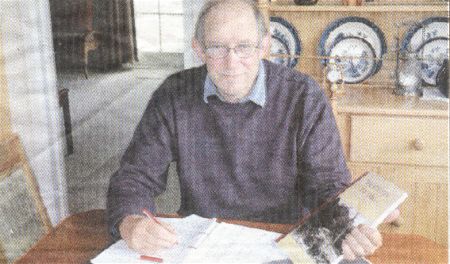 Bruce Murray's labour of love has meant poring over countless primary sources and writing all his notes in longhand. "It's someone else's job to put it onto the computer," he laughs.
The residents of Duval Grove Tawa will probably never know how their street got its name.

Bruce Murray, chairman of Tawa Historical Society, is the author of a new book, The Streets of Tawa, which explores the history of the area and the origins of every street name in the suburb. It's been a bush year collating and putting the information together, but Mr Murray says he's loved every minute of it.

"It was a lot of fun [and] there are some real fascinating lives and extraordinary stories out there. It's a picture of what it was like to live back in those days."

Around 25 percent of the streets are named after the original settlers, like Wilmshurst Place, Taylor Terrace and Bartlett Grove. Farmers, businessmen and religious leaders in the community also make up a large portion of street names.

"Land Crescent for example, was named after a Catholic parish priest from Lower Hutt," Mr Murray says. "He used to come all the way over to say mass on his horse and gig. [Early settler] James Taylor had 45 kids and his story provides an insight into life in rural Tawa too. And Redwood has its streets named almost universally after Oxford and Cambridge colleges."

But alas, Duval Grove remains a mystery.

"We had a few responses about this, but a lot of them were theories that proved to be just that. This one has escaped us."

Mr Murray says photos and text for The Streets of Tawa were largely gathered from primary sources at Wellington City Council's archives, Archives New Zealand, Alexander Turnbull Library and Porirua Library. Some of the old photos will especially amaze readers, showing Tawa at a time when there was more farmland and less trees than you could imagine now. Mr Murray is grateful for the public response too.

"After the [Kapi-Mana News, July 12] article appeared, I had dozens of phone calls, people have been amazing and they've helped us a lot. This has been something that has really taken the public interest."

In writing the foreword, Wellington City Mayor Kerry Prendergast says it "is a fascinating insight into the history and overall development of Tawa as a community, I know you will enjoy reading it".

A final page in the book also helpfully suggests future street names as Tawa continues to expand.

The 100-page, easy read and well-illustrated book has been printed locally by Porirua Print and has an initial run of 600 copies.

Mr Murray is confident, especially with Christmas around the corner, they will have a lot of demand for it, and he thinks more copies may need to be printed yet. It costs $20 from Tawa Library and Books & Moore, or by writing to the Tawa Historical Society, PO Box 51073, Tawa. The official launch is on November 30 at Tawa Library from 6pm and will be attended by Ms Prendergast.


[Report by KRIS DANDO, published in Kapi-Mana News, 15 November 2005.]
---
Street names prove a puzzle for Tawa's historians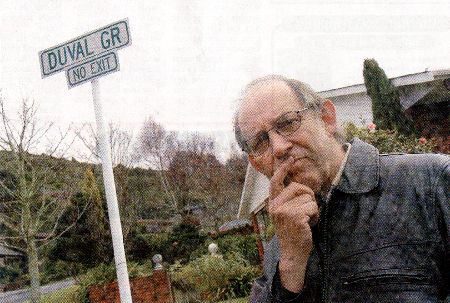 Help sought solving Tawa street name mystery
What's in a street name? Tawa Historical Society chairperson Bruce Murray needs help unravelling the suburb's past.
Help is being sought for a new book on the history of Tawa's street names to solve some missing pieces of a puzzle. Tawa Historical Society is producing an 80 page book, to be published in October, but has come up against one or two conundrums, says chairperson Bruce Murray.

"We've got reasons for the naming of almost all the 150 streets in Tawa but there are a few streets that we just wonder what knowledge people in the community might have to point us in the right direction."

Question marks rest on some of the oldest streets – Hampton Hill, Chester Road, Lyndhurst Road and Woodstock Terrace – all developed in the 1930s by Tawa Central Limited.

"We think that they were just nice sounding names with an English connection and sometimes it's as simple as that. But maybe it was something deeper than we know."

But there are others that have proved "a bit of a puzzle", he says. Like Duval Grove in redwood, a suburb developed in the late 1980s, he says. All the street names in Redwood are connected somehow with Oxford and Cambridge Universities in England. "But Duval – the very last street to be developed – doesn't compute. It's out of character with the rest of the suburb."

Other puzzles are Lupin Terrace, Colonial Grove, and Melville Street. The society had thought that Melville Street was named after an Alan Melville who helped establish the Tawa Volunteer Fire brigade after World War II. "That is until I can across a map the other day produced in the 1930s which has Melville Street marketed so it throws into doubt whether it's marked after Alan."

Another is Mascot Street which runs off Larsen Crescent – the area having been developed by the Larsen family. "It's been suggested that was named after Gordon Larsen's wife – either her first name or her maiden name, but we don't know – we might be completely on the wrong track."

Mr Murray say in the course of putting the book together they have learned a lot more about Tawa than just street name histories. "There are absolutely fascinating stories – very poignant stories – some quite amazing things come out. Some of those characters were tough old birds."

Anyone with useful information can contact Mr Murray 232-5374.


[Report by Moana Kousal, published in Kapi-Mana News, 12 July 2005, pp1,3.]
---
Brass plaque markers for Tawa
The Tawa Historical Society has several interesting projects on the go. Chairman Bruce Murray says the Society is working with the Wellington City Council on the production of an updated booklet on the Northern heritage Trail. Originally Tawa was not part of Wellington so the Tawa part of the trail was not included in the booklet, and there have been changes to the southern part of the trial such as new roads and subdivisions.

The Society wants to develop two new heritage trails within Tawa. These will take an hour or two to walk and will be of interest to locals and visitors, featuring old houses, original farmhouses and other buildings and sights of historical interest. It is proposed to install a noticeboard in central Tawa with information about the trails. Maps and brochures will be available.

The Society would like to place brass plaque markers in the footpath to indicate the route of the old Porirua road where it went through Tawa. Possible future projects include investigating heritage status buildings, and an old US Marines ammunition dump in Takapu Road.

Author Barbara Adams has written a book of local recollections entitled, "I remember Tawa". Profits from the book are to go to the Historical Society. At a meeting last month the Society was absolutely delighted to receive a cheque for $1200. The book has been very popular in the area.

Bruce says the Society has been in existence for two years. Members pay an annual subscription, which is the main source of the Society's funds. Bruce is keen to let people know that they exist and that they want to do things that will have an impact on the district.


[Published in Northern Courier, 14 May, 2003, p7.]
---
Churches in Tawa
The Churches in Tawa have served the community for more than 135 years. Tawa's pioneer settlers were men and women for whom work and worship went hand in hand. Church was the focal point of their small, but spread out community.

The first public building erected at Tawa Flat was the Primitive Methodist Church in 1854. Most of the original settlers worshipped there. While families would converge on it from miles around for Sunday School and services. Its festivals and picnics were the source of much pleasure.

The story of our Churches in Tawa is of co-operation, tolerance and dedication. Families joined forces to provide money, labour, land and building, so that they could practice their faith. Today this community spirit has continued with combined services and other joint activities. The Religion in Life programmes in primary schools are amongst the activities that ensure close co-operation between the churches.


[Published in the Northern Courier, 5 February, 2003, p5.]
---
Tawa Historical Society "on the job"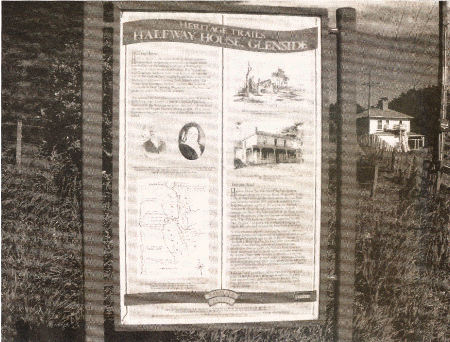 A year after it was established, the Tawa Historical Society is building momentum, and has a number of exciting projects planned for the year ahead.

The new society spent much of its first year considering what it will do, the Committee chairman Mr Bruce Murray says. Now, however, it has decided on the main themes for the year ahead. One is suggesting to Wellington City Council a number of key areas in Tawa to put up signs with historical information.

"We have identified about half a dozen key sites," Mr Murray says. One, for example, could be put up at Takapu Road Station. It could cover the bucket tree, the development of the Takapu area, the old stockade built on the site in the nineteenth century, and the Old Porirua Road. The signs would be similar to the one in Glenside, at the site of the historic "half way house".

Another project will be to work with the City Council to extend the booklet on heritage trails in Wellington, so that it brings in Tawa. A third scheme was "to decide where the heritage trails might go and to develop a walking map to give to people who would like to go for a walk," Mr Murray says.

The Tawa Historical Society has a committee, meets once a month, and has a newsletter. "We're on the job. We're very young though, haven't got much money, and are looking for new members," Mr Murray says.


[Report by Frank Neill, published in the Northern Courier - 13 November 2002, p3.]
---
Tawa Historical Society gets vocal
Tawa Historical Society members are trying to make their voices heard in their mission to preserve local history.

Deputy chairperson, Philip Harland says members are in the midst of various projects around Tawa. One society member Chris Gaunt, has a vision for old building and sites to be clearly marked. Mr Harland agrees that it is a priority to erect signposts in historical areas in Tawa, "Old Porirua Road, the Mexted's farm, Fort McCoy and the Oxford Street cottage for example." Other members want an historical guide published. Barbara Adams and Pam Edmunds are researching the history of Tawa schools and personal oral histories that predate 1960. Mr Harland says he wants the history of the Tawa area to become readily available public knowledge.

"In the past the Wellington City Council has ignored Tawa in their Heritage Trail booklets that cover the northern suburbs. The historical society's reaction was to submit a draft to the council to promote Tawa's heritage trail in their next booklet.

Mr Harland says the society wants to display historical photos and have on-line access to information in the Tawa library and the local service centre. He says Tawa Historical Society also needs a place to hang their hats. They are in the midst of negotiations with the Wellington City Council, Tawa Futures, and the Tawa librarian, to organise a space for members to meet. At present the society meets at the old Tawa Borough Chambers. Mr Harland says alongside trying to preserve local knowledge, the society has made a few changes to the society's administrative roles. He says 30 people attended a recent annual general meeting. Wellington Mayor Kerry Prendergast, who will have another term as the society's patron, Northern Ward councillors Ngaire Best and Robert Armstrong, were among those who attended. Former Tawa College Principal Bruce Murray was elected chairperson and Mr Harland, deputy. Susan Butterworth and Bill Hinkley will act as secretary and treasurer respectively.


[Published in the Kapi-Mana News, 3 September, 2002, p6.]
---
History buffs of Tawa, make yourself known please
The Tawa Historical Society wants more members, and is urging all those interested in the history of the former borough to come to its next meeting. People are encouraged to bring letters, photos and old documents of historical significance to the Tawa area. The society's committee is looking for more eligible buildings to be classified as historical places.

Chairperson Phil Harland says merely by attending the meeting people will help strengthen the society. Those who join by the end of June will be recognised as founding members.

Mr Harland says the society will provide an educational resource for people who are learning about the present. "It's good to know what came before"

The society plans to publish the handwritten notes of the late Elsdon Best whose family were early settlers in Tawa. Mr Best was an ethnologist with the Dominion Museum for 20 years and wrote extensively of Maori history.

The society is also considering establishing a museum in Tawa in the future.

The meeting will be held on Friday, May 27, at the Community Board chambers on Cambridge Street at 7.30pm.


[Report by Dawn Tratt, published in the Independent Herald, May 21, 2002, p22.]
---
Tawa's history to become a matter of record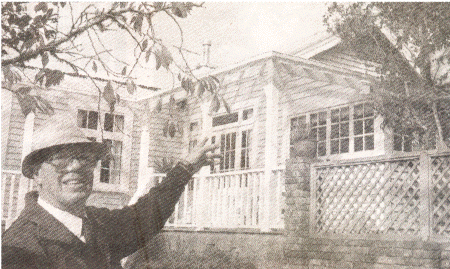 Phil Harland points out the building's original roof line and chimney.
Nobody knows how old this Tawa house is, but the Tawa Historical Society is determined to find out. Philip Harland, chairperson of the newly formed society, says while the earliest record of the land being sold is 1898, there is no record of when the house was built. The original house, which has been extended several times over the years, appears in a photograph taken 1938, but he says it would be much older than that. The original roof line and chimney can still be seen, above what is now a much bigger building. Mr Harland estimates the bay window extension, seen below that, was probably added in the 1920s.

The Tawa Historical Society is researching eight to 10 buildings throughout the suburb, to determine whether they should be given historical status. It will be their first major undertaking since they were incorporated on April 30 this year. Mr Harland says that even if the buildings are not old enough for classification with the New Zealand Historical Places Trust, they are still important to the Tawa Community. "We can still talk about them in the sense of Tawa's history – whether or not they are of historical value, they're already of historical value to Tawa."

With that in mind, the Tawa Historical Society is holding a meeting for members and the public on Monday, May 27. Mr Harland invites people to bring letters, documents, photographs or other items of potential historical interest to "show and tell". Additionally, committee members Chris Gaunt and Pam Edmonds will make presentations about Tawa historical places and buildings, and founding member Barbara Adams will speak on oral history.

All are welcome at the meeting, which will be at the Tawa Community Board (council) Chambers, Cambridge Street, Tawa, at 7.30 pm on May 27.


[Published in Kapi-Mana News, 21 May, 2002, p5.]
---
Protecting Tawa's heritage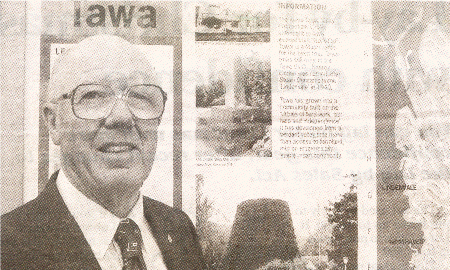 A concern about old buildings "vanishing from Tawa" prompted a recent forming of the Tawa Historical Society. Newly appointed chairperson Philip Harland says he became concerned about the number of old buildings being carted away, and wondered if they were historically important.

A public meeting in June attracted 50 likeminded people, and the society, which covers the Tawa area, was formed. Historical societies help identify heritage buildings of significance and make recommendations to the New Zealand Historical Places Trust for inclusion on the heritage register listing. Mr Harland says the society has already identified two buildings in Tawa to be recommended for listing, the Bartlett Homestead, and the old school cottage.

The Society is also keen to purchase a building which can be developed as a museum, and as a base for educating the young people of Tawa, Mr Harland says. It plans to use modern technology as an educational tool. "Video oral presentation of first-hand comments of people who were actually there," Mr Harland says.

The society will also look at developing the Heritage Trail which starts in Paraparaumu and ends in Johnsonville. "We want to connect it between the two places," Mr Harland says. "We are also planning to publish a regular bulletin, look at the history of the schools in the area, and the old cemetery," Mr Harland says.


[Published in Kapi-Mana News, 4 December, 2001, p15.]
---
Tawa historical society to be formed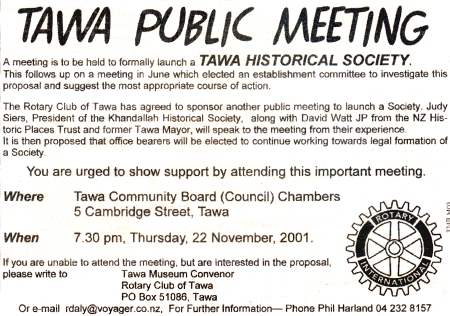 An historical society is to be formed to take over the establishment of a museum in Tawa. The decision to setup the society follows a public meeting on June 27, which enthusiastically endorsed the idea of a Tawa Historical Museum. Phil Harland from Tawa Rotary Club, which put forward the museum proposal, says an establishment committee for the historical society on July 19.

He says the committee set up two subcommittees. "One will prepare a constitution and setup the legal requirements for an historical society. The other will consider what activities the historical society might pursue." Mr Harland says the second subcommittee will look at establishing the old Tawa Flat School cottage at 14 Oxford Street as a museum, or find another site.

He says the society will also do an inventory of historic buildings in Tawa and ensure they are listed in Wellington City Council's District Plan. "It will also ensure that the heritage trail from Wellington to Porirua is identified and signposted through Tawa. The Society could also prepare applications to the New Zealand Historic Places Trust for historic buildings to be but on its register."

The establishment committee will meet again on September 20, when it will set a date for a public meeting when those present will formally be asked to establish the society.

Further information is available from Mr Harland, phone 232-8157.


[Report by Colin Patterson, published in the Independent Herald, August 7, 2001, p8.]
---
Committee to assess Tawa museum options
A proposed Heritage and Settlers Museum in Tawa took a step forward in a public meeting on Wednesday. About 50 residents attended the meeting organised by Tawa Rotary Club.

Rotary spokesperson, Dave Alexander says a motion was passed unanimously to set up a committee to analyse all options to establish a Tawa Museum and Heritage Society.

"Messages of interest and support were received from many sources, including MPs Peter Dunne and Graham Kelly, deputy mayor Kerry Prendergast, city councillor and Onslow Historical Society President July Siers and Tawa Community Board and Youth Council member Ngaire Best."

Mr Alexander says Wellington Museums Trust executive director John Gilberthorpe spoke about his experience with successful Wellington institutions, including the Museum of the City and the Sea. "Support from the trust was clearly evident, with a message that local commitment is clearly an essential," Mr Alexander says.

Those chosen for the establishment committee, were Graham Butterworth, Brian Blacktop, Susan Butterworth, Brian Abel, Pan Edmunds, Anne McGregor, Chris Gaunt, Maury Darrach, Phil Harland, Allan Todd, Gaylene Lines, Elizabeth Sutton, Eric Robinson and Ngaire Best.

The committee will meet next on July 19.


[Published in the Independent Herald, July 3, 2001, p12.]
---